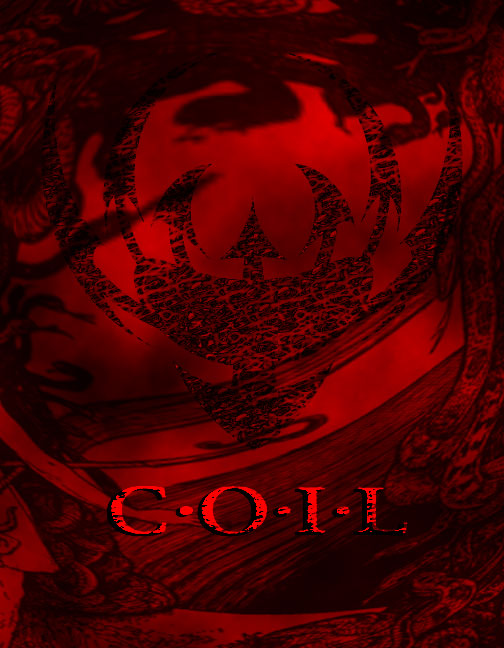 The Organizers of Convergence 7 are proud to announce that Coil will be one of the distinguished bands performing for you this August.
Dark, chaotic, perverse, and innovative; Coil has been around since the early 1980's and has restlessly pioneered all manners of electronic and esoteric music through the years. Their performance for Convergence 7 will surely be unlike anything most attendees have ever experienced; this will be their historic first performance in North America.
Founded by Peter Christopherson of Throbbing Gristle and John Balance (both Psychic TV alumni), Coil is the distilled elixir of everything which is taboo and mind-bending. Wildly eclectic with regards to musical elements, Coil is the soundtrack to dreams of blood, secret gods, mad inventions, forbidden lusts, cosmic rituals, alchemical delerium, and magicks unearthed.
Their debut album "Scatology" (1984) and its follow-up "Horse Rotorvator" (1986) on Some Bizarre (finally reissued legally on CD as of this year) were peerless classics at the tail end of the original Industrial era, while "Love's Secret Domain" (1991)— often considered the greatest album ever released on Waxtrax! Records— helped usher in the twisted electronic musics that would dominate 1990's underground culture. Throughout this time, they produced countless one-off singles, soundtrack works (most notably the unused themes for Clive Barker's Hellraiser), and classic ambient experiments that are documented on the excellent "Unnatural History" anthologies (of which three have been released to date).
Nowadays affiliated with the World Serpent Distribution family, their more recent work with records such as "Black Light District" (1996), the Solstice/Equinox singles (1998-1999), and the "Musick to Play in the Dark" series (1999-2000), continues to unearth new possibilities for their unique sonic vision while their ongoing Time Machines project explores primal mind-altering drone at its most transcendental.
On the horizon for Coil is their long-awaited album Backwards, to be released next year on Nothing Records. Speculations are wild about this release, and many believe it will be the most revolutionary and influential album of the new millennium.
Penetralia | Love's Secret Domain | The Dreamer Is Still Asleep
Blood From The Air | Dark River | The Anal Staircase | Strange Birds